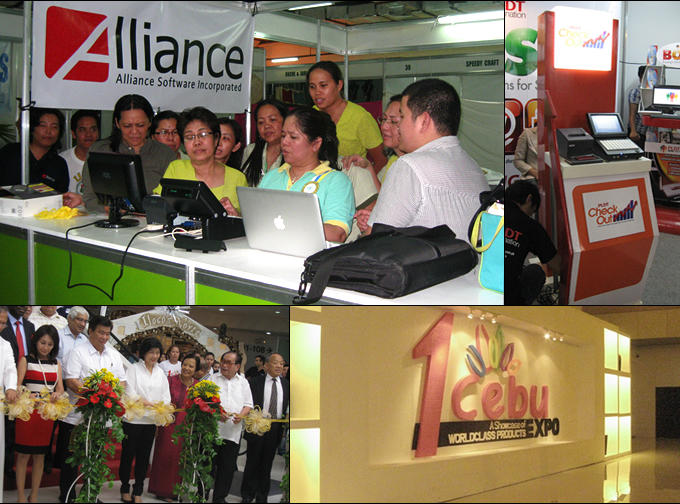 Cebu International Convention Center became this year's shopping mecca as it hosted the 4th annual ONE CEBU, a showcase of world class Cebu-made products which ran from August 5 to 15 2011. Organized by the Cebu Provincial Government, the 11-day expo boasts of 360 local merchants from Cebu FAME Bazaar, Cebu GTH (Gifts, Toys and Houseware) sector, LGUs across Cebu province, furniture, food and local delicacies and hotels and resorts. It also hosted business conferences and the annual Pasigarbo sa Sugbo, a competition of festive performances from participating cities and towns all over Cebu.
This year's expo also saw the emergence of retail innovation with the deployment of PLDT CheckOut, an online point-of-sale system developed by Alliance Software Inc. for PLDT. Placed in 7 strategic cashier stations around the CICC, CheckOut was able to assure exhibitors that their sales were documented and secured. "With PLDT CheckOut, everything is documented. All the daily transactions of the merchants can easily be verified and reconciled using reports you can generate straight from the system, says Ms. Junelene Arenas, OIC Assitant to Provincial Treasurer. "It assures accountability of each cashier. You can spot erroneous transactions immediately, it no longer takes us days tracing an error. And we didn't worry of cashiers who encountered CheckOut for the first time on the first day of the expo since Alliance and PLDT technical support was impeccable", she added.
PLDT CheckOut is a low maintenance, cost-efficient point-of-sale system which can be accessed anytime and anywhere through a web browser run on any kind of computer hardware. Built on Flex Technology, it gives a user-friendly experience making it quick for cashiers to adapt. Reports can be viewed as dashboards and as graphical charts to easily spot and monitor trends allowing owners to make sound business decisions in real-time. Because of its cloud environment, support and upgrades are of no cost and can guarantee zero downtime with data secured and optimized in PLDT hosted servers.
To know more about PLDT CheckOut, visit its official website, www.pldtcheckout.com.ph or call 101-888.