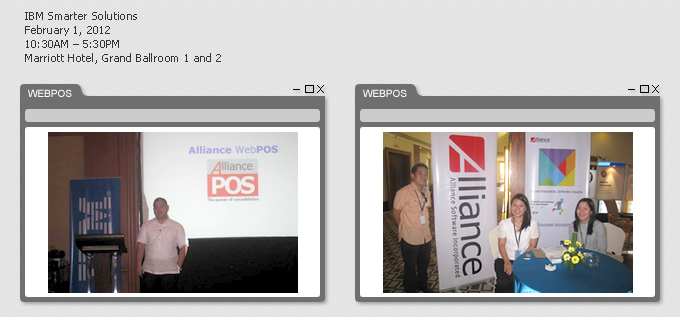 With limited resources, businesses today can no longer depend on simple IT resources to optimize growth. Retailers need to be updated with the recent innovations in technology to push your business forward and compete effectively. IBM has launched its Smarter Solution Series to usher in these breakthroughs. In its Cebu leg, held at Cebu Marriott Hotel last February 1, 2012, IBM hosted a plenary discussion and breakout sessions for the retail industry and the manufacturing industry.
Alliance Software, Inc., a long time business partner of IBM, is one of the invited speakers for the retail track. Alliance Software introduced their market leading smart retail solution called Alliance WebPOS? the first web-based point-of-sale system in the country. With the cutthroat competition and increasing demand in retail, WebPOS allows retailers to stay ahead of the game at a significantly lower operational costs through innovative technologies. WebPOS can run on any high-quality hardware for cashiering activities including IBM SurePOS machines. Retailers are ensured that they not only have the best POS software but also perpetual quality in hardware.
Alliance WebPOS can operate on any preferred operating system and with the retailers' existing third-party applications. Regular software updates are managed thru remote web administration. This eliminates any worries on the POS software being outdated. Moreover, all your POS data is securely downloaded from and uploaded to the server using HTTPS, internal encryption and decryption so sensitive data will not be in the reach of any unauthorized personnel. Loss of information is almost impossible with the secure databases supported by WebPOS such as the IBM DB2.
Alliance WebPOS also carries a user-friendly design for easy and fast installation and to minimize training cost (i.e. cashier's time used for training, cost of re-training). It uses the cloud computing technology where owners can have fast and still secure access to reports and dashboards using any web browser. With on demand information, the right business strategies are created and allow the retailers to stay ahead of the competition.
In a nutshell, Alliance WebPOS is designed to help the players in the retail industry respond accordingly and quickly to the increasing demands of the market. You can achieve market leadership with low financial and time requirements, making it an absolutely smart solution.
To know more about Alliance WebPOS, visit http://www.alliancepos.net and enjoy a 60-day free trial.
About Alliance Software, Inc.
Alliance Software, Inc. is a 100% Filipino-owned and independent software development outsourcing company with more than 10 years of remarkable existence in the industry. It caters to application development outsourcing or ground-up projects and also offers packaged software to key markets in Tokyo, Philadelphia and the Philippines. About IBM
IBM is an international information technology partner providing the most extensive IT and business solutions to majority of the top companies. With decades in the industry, it is the respected brand known to deliver quality hardware, software and services.