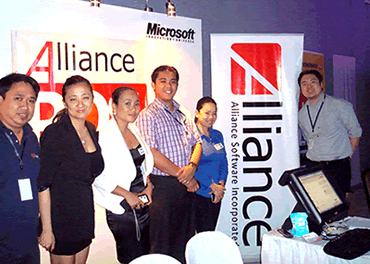 Alliance End-to-End Solutions Inc. Manila Team in the Alliance booth during Microsoft Innovation Universe Who Dunn I.T. last March 22, 2012
(Left-Right)
Ronaldo Cruz - Technical Suppport;
Eve Javier, Katherine Ramos, Nino Gatdula, Riza Destacamento - Account Executives;
Kendrick Chong - AVP for SW Services, IBM, SugarCRM
Alliance Software Inc. joined a 3-day event organized by Microsoft dubbed as Microsoft Innovation Universe held last March 21-23, 2012 at the SM Mega Trade Hall in Manila. The second leg of the series called Who Dunn I.T. featured hardware and software innovations using Microsoft technologies on Phone, Windows 8, HTML 5, Touch and Cloud by the major players in the industry including Alliance Software, Inc. The Alliance WebPOS was featured as one of the key innovations built on Microsoft's new cloud computing platform, Azure. With Alliance WebPOS' cloud computing platform, retail owners can now have real-time access to their business data anytime, anywhere using any web browser.
To ensure that a wide range of industries and business types can enjoy the software benefits, Alliance WebPOS now supports the Windows Azure platform. Alliance WebPOS on Azure allows Alliance to extend its reach to more retailers in the Philippines and in the ASEAN region where Microsoft has an extensive partner network. Likewise with Azure, Alliance WebPOS can take advantage of Azure's stable, robust, scalable and high-performance cloud platform. This was launched during Who Dunn I.T. last March 22, 2012. It was the right event to introduce another Alliance innovation to the IT community and Microsoft's wide audience. During the event, Alliance WebPOS showcased its capability to support multiple deployment options while still maintaining high performance.
Alliance supports and partners with Azure as this aligns to WebPOS' key delivery goals related to faster access, higher reliability, better performance and high level data security. Clients will enjoy a significant boost in speed for data retrieval allowing for quicker strategies. Alliance also combined its scalable software with a scalable platform to offer a revolutionized retail solution. Whether your business scales down or expands, WebPOS will give you steadfast efficiency regardless of data size. With a private cloud, WebPOS clients do not share the information space with other companies or worse, to competitors. POS upgrades and maintenance are also tailored fit to address specific needs.
With Azure, Alliance WebPOS' enhances its commitment to support the growing retail economy in the entire ASEAN market. Once again, WebPOS has proved that it is not just a mere point-of-sale. It is an evolving system with an active product life cycle rich supported by constant research and development.
Alliance Software, Inc. is a 100% Filipino-owned and independent software development outsourcing company with more than 10 years of remarkable existence in the industry. It caters to application development outsourcing and offers packaged software to key markets in the ASEAN scene such as Tokyo and the Philippines, as well as in international reach in Philadelphia. It is the first to offer a web-based POS system in the country ? Alliance WebPOS. This transforms your business into a successful enterprise as it helps increase sales, provides the information needed to make financial decisions, and enables you to provide first-class customer service using only your Internet connection. It uses Cloud Computing Technology to offer superb convenience in manipulating the system anytime, anywhere.
Microsoft is one of the biggest players in the global IT market offering solutions to all segments of the market. With the emergence of cloud computing technology, Microsoft used its years of expertise to develop Windows Azure. It is an open and flexible cloud platform that also uses Software-as-a-Service architecture. This platform caters to building and hosting applications in Microsoft datacenters spread around the world.
Around 200 guests flocked the event comprised of IT professionals from different business industries and IT students to discover innovations like Alliance WebPOS running on Windows Azure.
Check out http://subterfusedesign.com/metro to see more event details.