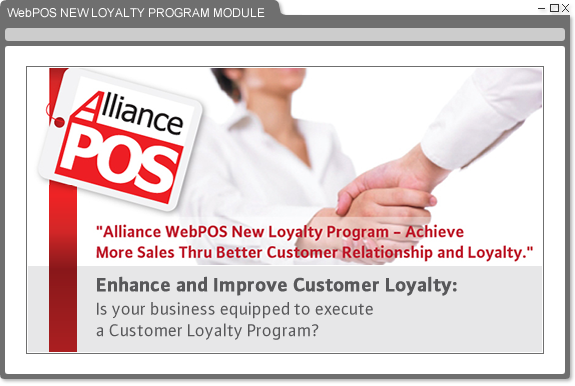 Yes, you can with the Alliance WebPOS!
Alliance WebPOS, the online Point of Sale system, has added the Customer Loyalty module to allow you to build and strengthen relationship with your customers. The main objective of this module is to help you know your customers and reward loyal customers.
What Can The Loyalty Program Do:
Generate Membership ID, print and email membership card thru your current WebPOS system;
Track accumulated points earned by your loyal customers;
Convert these points to rewards that delight your customers;
Set-up multiple point conversion schemes like gift checks and coupons
Alliance WebPOS Loyalty Module Key Benefits
Build and Strengthen Customer Relationship
Seamless integration with your current Alliance WebPOS
Stimulate customer's desire to repeat purchase through GC reward
Effortless points conversion
Print Gift Certificates directly from WebPOS
Automated distribution of Membership ID and Gift Certs. via email
Quick response to customer's need by extracting sales trend reports
Find out more about how Alliance WebPOS can further benefit your business.