Alliance Software Inc has now released the Alliance Cloud Sales and Distribution System to support sales and distribution management in the Philippine wholesale industry.
This is Alliance's answer to the expanding client base that has gone beyond retailers and now includes trade wholesalers and manufacturers.
The Alliance Cloud Sales and Distribution System takes advantage of the reliable and very successful cloud platform that Alliance has built and perfected over the years and the same cloud platform used for the Alliance WebPOS.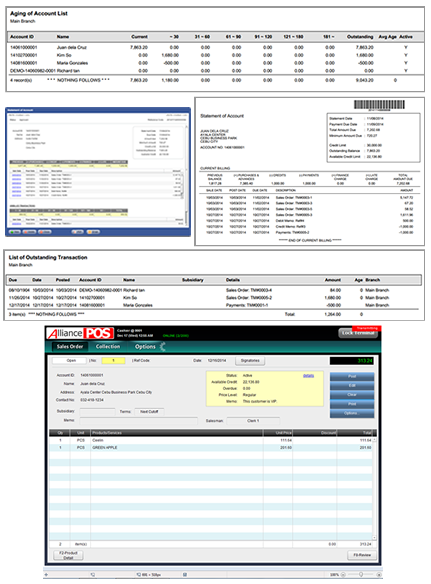 The Alliance Cloud Sales and Distribution System addresses the key challenges in the wholesale business by supporting below features and benefits!
Centralized! Manage a global list of accounts with control over credit limit and terms from the head office. Eliminating redundant and duplicate accounts across multiple sites.


Integrated! Easily integrated with Alliance WebPOS Inventory module to make real time inventory management possible.


Flexible! Can follow existing business process from Quote → Sales Order → To Delivery Invoice or just direct Sales Invoice.


Customizable! Can support multiple templates for different types of print out forms. Also has an option to edit printout templates without software development effort.


Secure! Manage business approval process and define posting impact based on security access and hierarchy.
Efficient! Implements a global billing process where billing statements can be generated on schedule or on demand!


Intelligent! Can be configured to automatically compute for minimum payments, finance fees and penalties.


Fast! Payments are applied in real-time and based oldest sales invoice!
Implementing Alliance Cloud Sales and Distribution System is an important step in ensuring correct and efficient processing of orders and payments that benefits both the seller and customer!
Billing and Collection should be fast & easy! For more information or request for demo, contact our sales representative NOW!
---
About Alliance Software Inc

Alliance Software, Inc. is a global application development outsourcing company. Alliance was established in 2000 and has since grown to become one of the Philippines' largest and most respected independent software development outsourcing company. Alliance's delivery model is anchored on both on-shore and off-shore approach stressing on effective use of our key strengths in our people, process and technology. As part of Alliance's strategic delivery model, Alliance have established offices in the key markets of Tokyo, Cebu and Manila.

URL: www.alliance.com.ph
About Alliance WebPOS

Alliance WebPOS is a web-based point of sales system (POS) using Software as a Service (SaaS) architecture to provide centralized hosting allowing you fast and easy access anytime, anywhere. It downloads a very small client footprint that runs natively giving you nice and user friendly experience like other installed application. It can run on Windows, Linux, and Macintosh platform providing you maximum saving against unnecessary hardware setup, maintenance and administration cost.

URL: www.alliancepos.net