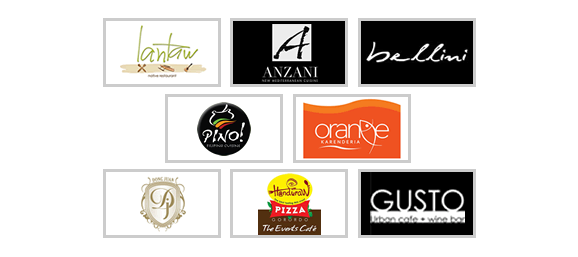 MyAPPetite is making managing of table reservations for more restaurants in the metro a lot easier and quicker for everyone! Make your reservation through MyAPPetite now!

Orange Karenderia - Cebuano dishes at its best! Get their best selling Betsy's Garlic Chicken and Crispy Tuna Buntot.
Handuraw Pizza - The locals favorite for beer and pizza! So many pizza flavors to chose from, but our favorite is a combination of Handuraw's Pizza Vegetarian and Pizza Cebuana!
Dong Juan - What started as a hole in the wall in Guadalupe has now grown as one of the most successfully franchised Cebuano restaurant. Don't miss out on the Biscuit Pizza, Pacific Pasta and their Sizzling Burger Steak!
Lantaw Restaurant - The freshest of seafood paired with a very Cebu ambience of your choice is exactly what you'll have in any of the branches of Lantaw Native Restaurant. Make sure to get the Baked Scallops and the Grilled Tuna Belly.
Pino Restaurant - Too hungry to wait for your meal to arrive? Just head straight to this restaurant and get your plate filled with their buffet offerings which includes Baked Oysters, Kalderetang Baka, Grilled Pork Belly and more! And as they say, don't skip on Pino's Dinuguan!
Anzani - The best fine dining experience in the city. Start off with the Anzani 5 wonders of the Ocean and for the main course, get their best selling potato stringed black cod with roasted olive tomatoes, slivered zucchini crisps and arugula on buerreblanc.
Bellini - Just adjacent to Anzani, cap the night off with entertainment, cocktails and a large selection of wine while enjoying a breathtaking view of Cebu's citylights.
Gusto Urban Cafe and Wine Bar - The perfect place to hangout with friends over wine and coffee. Pair them with pizza and pasta like our favorites Prosciutto di Parma and the Rigatoni Meat Pasta.
Don't forget to also check out local favorites such as Golden Cowrie, Hukad, Chika-an sa Lahug, Luy's Classic Tea House, The Old Spaghetti House and Shabu Way on MyAPPetite!
To learn more about MyAPPetite, send an email to info@alliance.com.ph or call +63-32-505-4437.
Like MyAPPetitePH on Facebook and follow MyAPPetitePH on Twitter.