Alliance WebPOS has been chosen as the primary solution to power Mactan Cebu International Airport's tenant management system. Alliance Software, Inc., the solutions owner and developer of the WebPOS system has been mandated to develop, implement and maintain the airport's Tenant Management System. Alliance WebPOS partners with the most progressive and dynamic retail brand operators in the country such as the Coffee Bean and Tea Leaf Group (Coffee Bean and Tea Leaf, Red Box and Wingstop), Unilab Philippines, ABS-CBN Mobile Stores, Holcim Philippines, Inc. and San Miguel Food Corporation's San Mig Food Avenue.
Alliance WebPOS is also the preferred POS software solution and business partner of PLDT for PLDT POS, New Datche Phils, Fujitsu Philippines and NEC Philippines. Alliance WebPOS is the only integrated web based POS solution in the country supported by Alliance's large development and technical resource with over 250 IT professionals to cover nationwide support.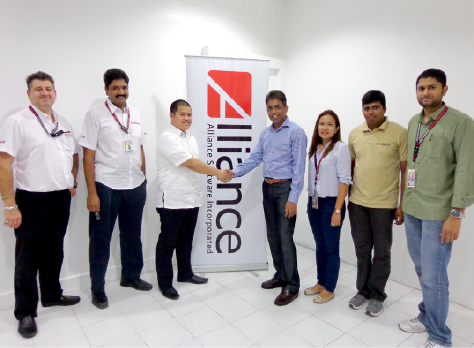 Alliance team with the executives of the Airport project team
Through this undertaking, Alliance WebPOS will be enhanced to handle not just Alliance WebPOS information from multiple Airport tenants but as well as to consolidate data from tenants who are using non-Alliance WebPOS systems. This feature will allow airport 100% visibility on all information being processed from all POS systems deployed within the airport. Using the same concept, Alliance WebPOS will also be configured to capture boarding pass information from the applicable terminals. This data capture process will allow seamless and hassle free transactions for customers and give airport with the information needed for data analysis and future service enhancement programs. Alliance WebPOS Tenant Monitoring System will also be integrated with SAP. The project is expected to go live by Mid-2015 and will provide end-to-end (from POS to SAP) solution for the airport.