Alliance Edge is back on it's Brand Talk series again. With consecutive events, one was held last September 22, 2016 at Bacolod City, together with its partner, Data Link Technologies Inc, IECC and followed last November 17, 2016 at Davao City together with Columbia Business Machines Inc - Davao. The event was attended by clients and non-clients of both business partners. They came from various kind of SME's that's operating mostly around Negros and Panay Islands, Davao and the nearby provinces in Mindanao Area.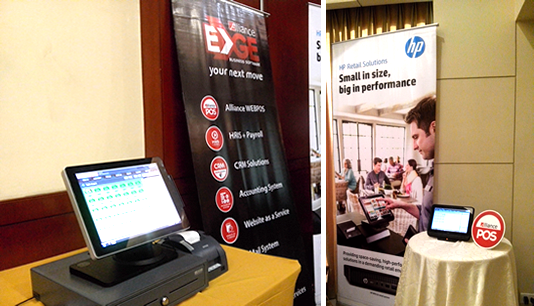 Brand Talk Series introduces Alliance Software Inc and Alliance End to End Solutions and re-introduced its product to the local market. As this business software products will help entrepreneurs to manage their business from sales, human resource, finance, marketing, customer relationships and to other IT support Services. Also, tackled during the events, are the upcoming new products and services by Alliance Edge and where do Alliance End to End Solutions stands now.
Mr Te Jay Luna, AVP for Sales and Marketing presented Alliance Edge's top business solutions;
HRIS + Payroll, Cloud Sales and Distribution System and the WebPOS for retail, which can now be accessed on mobile and tablets running thru SMART Store Manager application.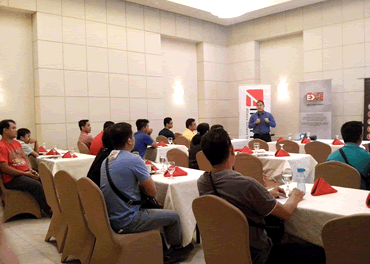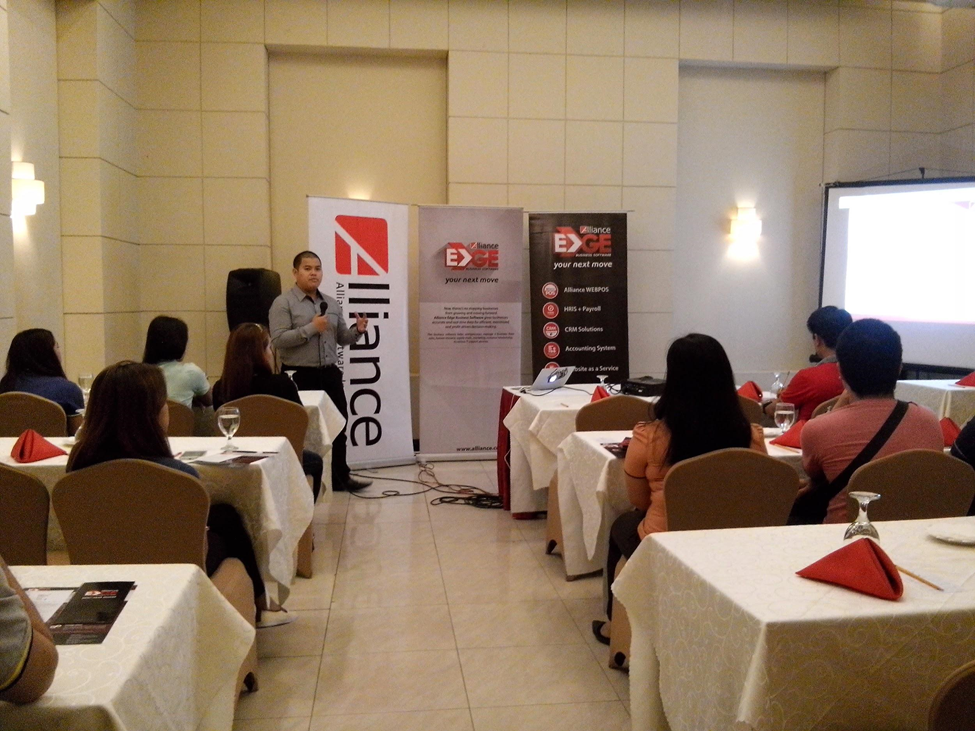 Solution consultation and Edge Hub were also open for guest to test-drive Alliance Edge business solution products, most especially for the WebPOS for retail on an Android tablet. Through Edge Business Solutions, Alliance urges businesses to automate their business process to keep with the fast-moving and fast-innovations of the market nowadays.
About Datalink Technologies, Inc:

Datalink Technologies, Inc. was registered at S.E.C last 29 December 1993 and opened officially for business last 09 July 1994, for 20 years now, providing computer hardware sales and services (repairs and maintenance) to individuals and homes. Since then, it has grown to be one of Bacolod's reputable computer information technology center, expanding its operations from individuals & homes to home offices & business offices, corporate offices, into systems integration, LAN/WAN (wired & wireless) installation, preventive maintenance, and internet / intranet solutions. Datalink continues to educate its clients to embrace and implement the digital lifestyle.

For more information about Datalink Technologies Inc, visit http://www.datalink.ph/

About CBMI - Davao:

Incorporated in Davao City in 1978, covers the Mindanao region. CBMI have branches and service outlets located in General Santos, Butuan and Zamboanga. CBMI is a member of New Datche Group of Companies.

For more information about Datalink Technologies Inc, visit http://www.cbmi.com.ph/CRMLANDING.html

AEES Branding with IECC Computers:

IEC Computers (IECC) started in February 1999 in Bacolod City. IECC is a major reseller and authorized service partner for major brands such as Canon, Epson, Lexmark, Brother, APC, Powercom and Apollo. IECC became a Microsoft Partner in 2002 and has since also focused on providing software solutions and related services. IECC Core Business: Information – software, antivirus, operating systems, website development, point-of-sale & payroll programs, technical advice
Equipment – ink, laser & dot matrix printers, inks & toners, flat bed & barcode scanners, storage devices & media, digital, video, web, CCTV cameras, computer tables & chairs,
Communication – PABx systems, mobile phones, routers & networking broadband reseller,
Computers - servers, workstations, laptops & netbooks

For more information about AEES Branding with IECC Computers, visit https://ieccomputers.com or email: info@ieccomputers.com

About Alliance Software Inc.

Alliance Software, Inc. is one of the Philippines' largest independent Filipino software development and business solutions company.

Alliance Software, Inc. is a global IT services and solutions company. Alliance was established in 2000 and has since grown to become one of the Philippines' largest and most respected independent software development outsourcing company. Alliance's delivery model is anchored on both on-shore and off-shore approach stressing on effective use of our key strengths in our people, process and technology. As part of Alliance's strategic delivery model, Alliance have established offices in the key markets of Tokyo, Cebu and Manila.

URL: www.alliance.com.ph
For more information on how you can start your business automation, you may contact us below:
| | |
| --- | --- |
| Cebu Head Office | +63-32- 505-4437 / +63-32- 231-4219 / +63-32- 238-3260 |
| Manila Office | +63-2-706-5077 / +63-2-239-5031 / +63-2-239-5083 |
| Email Address | info@asi-ees.com |