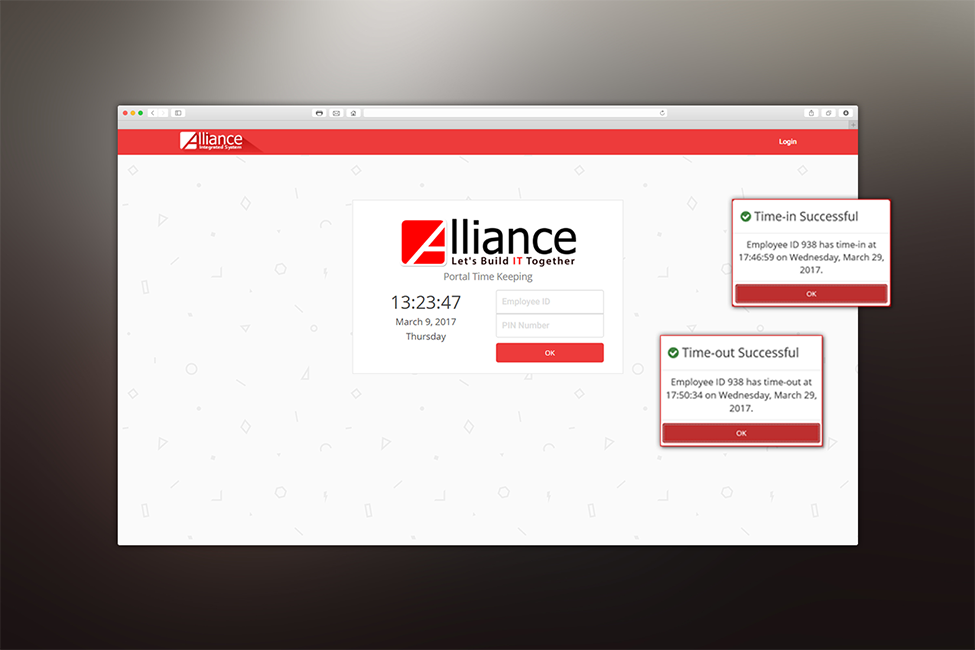 For several years, ATKi has been an internal monitoring tool in Alliance Software. The ATKi automates and monitors the daily time records that keep track of employee logs, absences, tardiness, and log requests for payroll and reporting purposes.
Why upgrade and use the new ATK?
Easy to Use and Accessible
Since the application can be accessed at just about any computer, employees can easily log in, log out, view their logs, and even file for request. On the other hand, administrators may also manage the different settings and records.
Efficient and Reliable
Viewing of logs and sending requests can be done in just one application. Approvers and administrators can also view, filter, and generate on-demand reports based on applicable data conditions to search.
Innovative
Automatic computation of tardiness, under time, and absences for easier processing. Approvers and requesters also receive automatic email notifications.
Flexible
This new tool can be easily integrated with Alliance Payroll+HRIS for payroll computation and reporting. Can also generate different file formats to allow easy integration with other systems.
Other key features of Alliance Timekeeping System are:
Employee Management
Project Management
Holiday Management
Shift Management
Attendance and Project Reports
To know more about the Alliance Timekeeping System, email info@alliance.com.ph
About Alliance Software Inc.

Alliance Software, Inc. is one of the Philippines' largest independent Filipino software development and business solutions company.

Alliance Software, Inc. is a global IT services and solutions company. Alliance was established in 2000 and has since grown to become one of the Philippines' largest and most respected independent software development outsourcing company. Alliance's delivery model is anchored on both on-shore and off-shore approach stressing on effective use of our key strengths in our people, process and technology. As part of Alliance's strategic delivery model, Alliance have established offices in the key markets of Tokyo, Cebu and Manila.

URL: www.alliance.com.ph
For more information on how you can start your business using Smart Store Manager, you may contact us below:
| | |
| --- | --- |
| Cebu Head Office | +63-32- 505-4437 / +63-32- 231-4219 / +63-32- 238-3260 |
| Manila Office | +63-2-706-5077 / +63-2-239-5031 / +63-2-239-5083 |
| Email Address | info@alliance.com.ph |